DR KONSTANTINOS LAMPROPOULOS
BHR HAIR RESTORATION CLINIC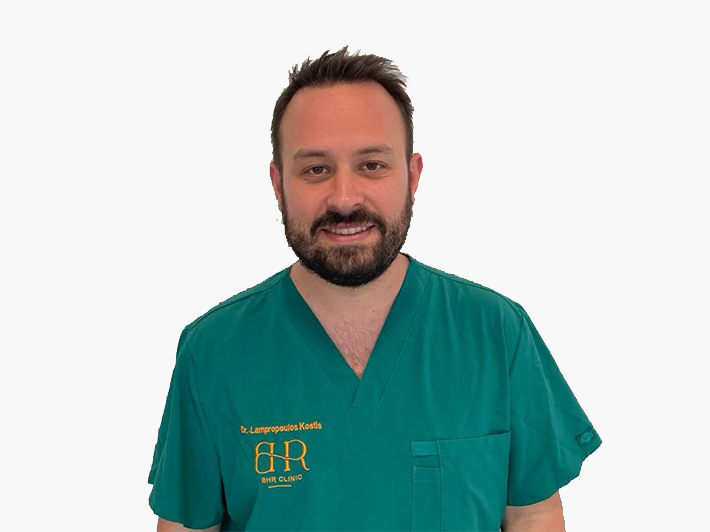 DR KONSTANTINOS LAMPROPOULOS
Dr Konstantinos Lampropoulos graduated from the Pavol Josef Safarik University of Kosice, Slovakia.
Dr Konstantinos Lampropoulos  undertook 1.5 years of Internal medicine specialisation and then he worked as a Rural ( General ) Doctor in Kalamos Island, Levkas Greece. He then went on to serve as a Doctor in the Basketball and Volleyball games in the city of Athens Greece.
Dr Konstantinos Lampropoulos has been an integral part of the BHR Clinic team since 2019 and working exclusively alongside Dr .Bisanga has enabled him to hone his skills throughout a 2.5 years intensive period of hands-on FUE. He has learnt the "Bisanga" Protocols starting from the in-depth consultation to the planning and execution of surgery, including the now famous "Bisanga" extraction patterns and approach, to the cutting of recipient sites with small custom made blades to the holding and placing of grafts using forceps or with the KEEP implanter.
Dr Konstantinos Lampropoulos in a proficient FUE surgeon in his own right and has also been trained in body hair usage of beard, chest and even leg hair subject to the right criteria. You can expect the Bisanga quality to echo through in his surgery with also his own signature. His entire approach and process capitalises on two decades of the elite experience of Dr. Bisanga that has been imparted to him in this accelerated and exhaustive period. From artistic design to optimal clean extractions, you can be assured you are in the best of hands.
Dr Konstantinos Lampropoulos is committed to ongoing participation in Congresses and workshops related to Hair Restoration. He has a very friendly and warm bed-side manner that is already noticed and appreciated by our patients.