PROVEN HAIR RESTORATION RESULTS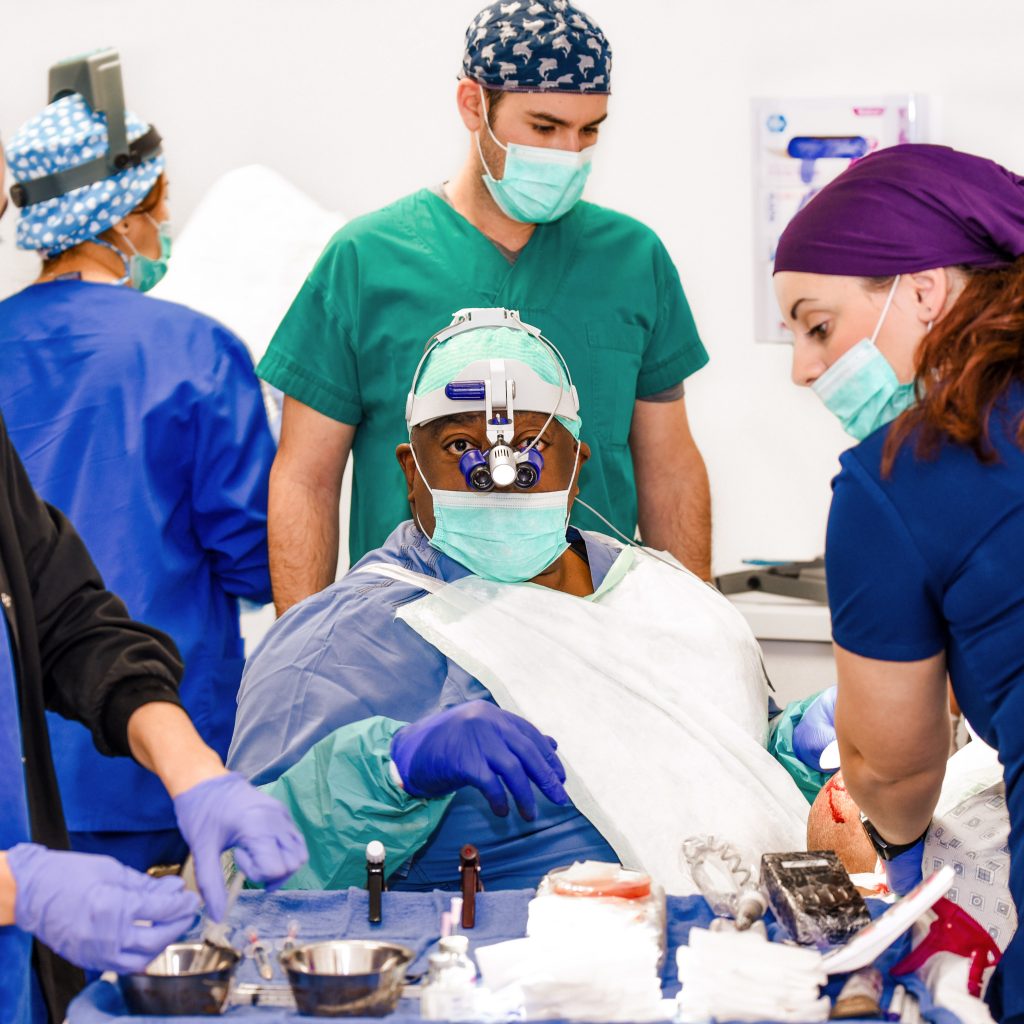 STATE-OF-THE-ART PROCEDURES​
Dr Bisanga and his team of experts bring you state-of-the-art hair transplant technology, design and technique to offer you the most natural results possible.
Through a synergetic approach, we have performed some of the world's largest recorded surgeries with the use of FUE, FUT and body hair transplantation, even to those who have a compromised donor resource.
Modern hair transplant techniques allow us to move natural healthy follicular units (grafts) to areas of your scalp that have experienced hair loss. Technical and artistic excellence are imperative in achieving optimal results, allowing
Dr. Bisanga to transplant at impressive density when appropriate, meaning that the patient can often accomplish their goals in one surgery.
FOLLICULAR UNIT Extraction

FUE is a technique that despite being widely available, is commonly performed to a poor standard. 
The extraction process requires expertise in donor management protocols to ensure that the maximum graft count can be harvested over the long term whilst maintaining visible density and ensuring that their are no obvious signs of extraction.
FUE allows the Doctor to select the most appropriate grafts for specific areas of your restoration, which are then individually punched and extracted from the back and sides of the head, thereby expanding the surface area that can be harvested.
The process is labour intensive (approximately 3000 grafts can be extracted and placed per day), so larger procedures require a second or further days.
BODY HAIR TRANSPLANT (BHFUE)

Body hair FUE (BHFUE) can present a very positive opportunity for restoring hair when the option of scalp hair transplantation is not available due to donor limitations.
Body hair transplant (BHFUE) uses the same principles of extraction as FUE, however hair is extracted from the body instead of the scalp. The procedure is recommended when there is insufficient scalp donor hair. The doctor who performs BHFUE must already be able to competently perform FUE surgery before performing body hair FUE. Body hair FUE is a relatively new form of hair replacement. 
Repair surgery can now achieve very impressive results for those who may have suffered from previous poor quality surgery. However, repair procedures can be medically difficult to perform and complication can arise that don't exist with a virgin scalp. Patients expectations must be managed and realistic and due to the nature of being a "repair patient", the emotional impact can be significant and should be appropriately supported.

Strip is the traditional method of extraction and can still be a viable option for both men and women.
It involves removing a strip of tissue from the back and side of the head and leaving a pencil thin line that the surrounding hair then covers.
The correct closure causes absolutely minimal tissue tension, is largely non-invasive and causes very little cosmetic change to the scalp.

Platelet-rich plasma has been used for years now to heal wounds in a variety of medical fields.
Dr. Bisanga believes it may have significant benefits in hair transplantation, including healing in donor and recipient areas as well as improving post-op skin and hair physiology. 

Scalp Micropigmentation is a non surgical procedure that is used to great effect to create the illusion of shaved hair, stubble on the recipient. Whilst it is a great alternative for individuals who are reluctant to consider a surgical intervention, it can also be a very viable option for individuals whose donor can not provide the required graft count to achieve hair restoration. SMP can also be very effective when supplementing a hair restoration procedure to add further visual density.